Place of the cource

We will be hosted at the St. Laurentius Parish House in Aachen.
This place has all the elements necessary to constitute a real musical academy: we will have a large rehearsal room for tutti work, rehearsal rooms for work in sections and individual work.
The evening rehearsals will take place at the Lycée Saint-Léonard (Monday 22) and then at the Centre communal Mariam im Tam (Tuesday 23 to Friday 26)
Accommodation and catering:
All types of accommodation are available in Aachen (hotels, bed and breakfast, airbnb…) according to the preferences of each trainee.
To choose your accommodation, you can consult the following websites
Some hotels or hotel chains of good quality, not expensive and in the city centre:
Under negotiation: catering will be available at lunchtime and in the evening, at a cost of approximately 10 € per meal (price to be confirmed). Reservations for meals must be made at the time of registration and must be confirmed at least one week before the beginning of the course.
Access to Aachen by public transport:
By train : (Thalys) from Paris, Brussels, London, with DB from Frankfurt, Cologne, Düsseldorf, with SNCB from Spa and Verviers, with Nederlandse Spoorwegen from Maastricht and Heerlen
Nearest airports : Cologne-Bonn, Düsseldorf
Public transport in Aachen : dense bus network

Timetable from 22 to 28 August 2022 :

The general schedule of the course proposed below is a theoretical schedule: the time slots announced correspond to the maximum slots. Some evenings may be reduced according to the progress of the learning process, and may give rise to free evenings.
These periods alternate between tutti and section work and vocal workshops, which are run in parallel.
The reception of the trainees will take place on Monday 22 August from 2 pm in Saint-Laurentius.
The musical work will start on Monday 22 August at 5 pm

Rehearsals will take place:
at the Parish House of St. Laurentius (Kath. Pfarramt St. Laurentius), Laurentiusstraße 79, 52062 Aachen.
General schedule:
The concerts will be held:
Saturday 28 August at 6 pm, in the church of Saint-Jakob / Katholische Pfarrkirche St.Jakob : Saint Jacques website
Sunday 28 August at 11 am, in the church of Saint-Nikolaus / Citykirche St.Nikolaus :  Saint Nikolaus website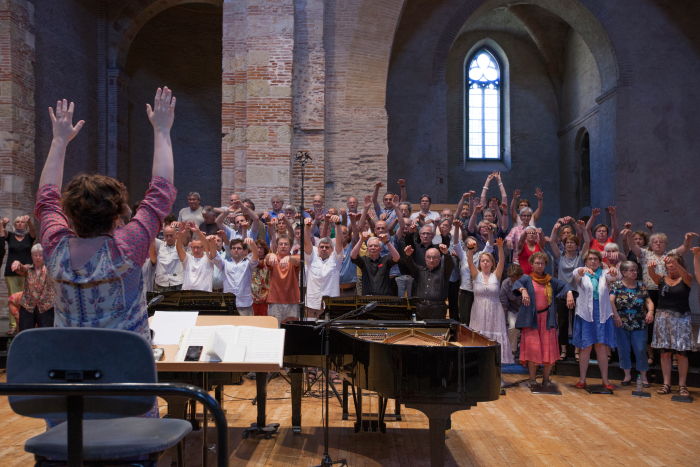 Pre-concert warm-up in 2016