Organisation of the course

Place of the course
We will be hosted at the Archbishop's Gymnasium Ursulinen-Gymnasium, Machabäerstraße 47 in the Kunibertsviertel district of Cologne.
The school is located close to Cologne Cathedral, the main railway station and many tourist attractions (churches and museums) as well as the shopping streets.
Opposite link (in German) to the website of the ursulinengymnasium-koeln Ursulinengymnasium-koeln
This location has all the necessary elements to constitute a real musical academy: we will have a large rehearsal room for tutti work, rehearsal rooms for desk work and individual work.
The main station is within walking distance in 7 minutes, the cathedral in 10 minutes, the Ludwig Museum in 11 minutes and the Wallraf-Richartz Museum in 17 minutes.
Participants will receive a leaflet with the most important information about the museums and churches. Volunteers will be available to answer any further questions.
The final concert will take place in the church of the same high school. Link to this church: Ursulines Church
Accommodation

All types of accommodation are available in Cologne (hotels, bed and breakfast, booking.com, airbnb, …) according to the preferences of each student.
To choose your accommodation, you can also consult the website of the Cologne tourist office: Koeln-tourism
But to make accommodation easier, Eurochorus has reserved 50 places (15 double rooms, 20 single rooms) at the Cologne-Deutz Youth Hostel: Cologne Deutz Youth Hostel
The hostel is located in Siegesstraße 5, about 25 minutes walk from the rehearsal venue (Machabäerstraße). By tram it takes about 15 minutes.
Prices (subject to change) :
Accommodation in a double room, including breakfast :
from 1.10.-7.10.2023, 15 rooms booked
Total price per person in a double room: € 376.32
Accommodation in a single room, including breakfast :
from 1.10.-7.10.2023, 30 rooms booked
Total price per person in a single room: € 547.47
Participants' reservations must be firm by the end of June via the online registration (see Registration page), but can be cancelled without charge until 6 July 2023.
Catering

Catering will be available for lunch and dinner, at a cost of approximately 10 € per meal (price to be confirmed). Reservations for meals must be made at the time of registration and must be confirmed at least one week before the course starts.
Access to Cologne by public transport

By train (Thalys) from Paris, Brussels, London. From Germany by DB
Nearest airport: Köln-Bonn
Public transport in Cologne: tram and dense bus network
Timetable from 1 to 6 October 2023
The general schedule of the course proposed below is a theoretical schedule: the time slots announced correspond to the maximum slots. Some evenings may be reduced according to the progress of the training, and may give rise to free evenings.
These periods alternate between tutti and divisi work and vocal workshops, which are run in parallel.
The reception of the trainees will take place on Sunday 1 October from 1 pm.
The musical work will start on Sunday 1st October at 4pm.
The concert will be held :
Friday 6 October at 8pm, in the church of the UrsulinenGymnasium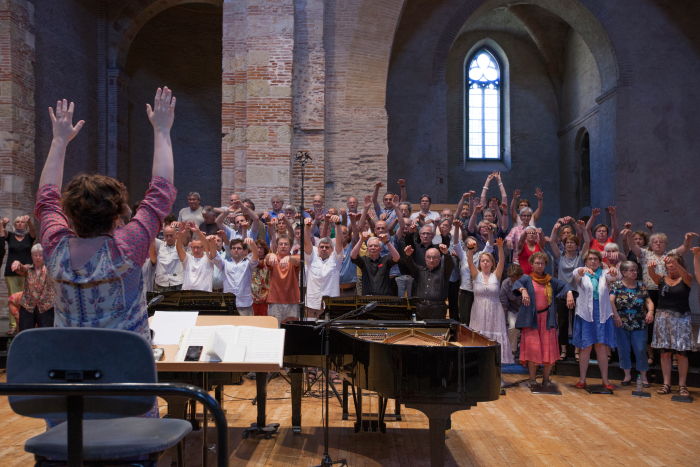 Pre-concert warm-up in 2016