Eurochorus –

R

encontres

I

nternationales d'

A

rt

C

horal
The association
Eurochorus is a non-profit, non-political and non-denominational association, governed by the law of 1901, recognised as an "organisation of general interest with a cultural character".
The association is managed by a board of six volunteers and a paid artistic director. At each of its meetings, it employs several contributors: guest choir conductors, piano accompanists, singing teachers, singing soloists, individual instrumentalists and orchestral groups depending on the programme.
Based on an idea by Jacques Michel, who died in 2019, Eurochorus was founded in 2005 within the Toulouse Franco-German Choir, of which he was conductor from 1992 to 2019. Eurochorus became an association in February 2006. It is a member of the Fédération des Chorales Franco-Allemandes, based in Bonn (Germany), which federates seventeen choirs spread over Germany and France. Many exchanges take place between these choirs.
Within this European federation, Eurochorus works to bring people together and to promote friendship through the practice of choral singing.
From 2005 to 2019, every year in July, Eurochorus organised an International Choral Art Meeting in Toulouse, which brought together adult amateur singers of a high musical level from several European countries to work on a major work from the classical music repertoire and perform it in concert:
All these singers were welcomed in a unique place, where they found the necessary infrastructure for musical work, with accommodation and catering.
Since 2020, Eurochorus has become mobile in time and place and has made itself available to the choir conductors of the Federation of CFA-DFC. Eurochorus provides them with the means to set up a musical and vocal training that brings together in one place choristers from several Franco-German choirs, as well as singers from friendly choirs to ensure the vocal balance of each section.
Thus, after a two-year interruption due to the world health situation, Eurochorus saw the first session of the new formula take place in Aachen in August 2022 under the artistic direction of Heinrich Bentemann. The calendar for the next few years has already been drawn up, and a number of choral conductors have expressed their interest.
Regional and international outreach
Participants in the course are recruited mainly from France and Germany, but registration is open to all: Eurochorus has thus welcomed singers from all regions of France and Germany every year.
The meeting and intensive work over eight to ten days of these amateurs, all with proven experience of choral singing, ends with one or two public concerts in magnificent venues made available to us (Saint-Pierre des Cuisines auditorium in Toulouse or beautiful local churches).
The musical staff – choirmasters, singing teachers, pianists – is entirely professional; Eurochorus has invited for the last ten years renowned French and foreign conductors from France, Germany, Canada and the Crimea.
The soloists and orchestra musicians who accompany the choir in concerts are chosen from among the best professionals, in order to guarantee a high musical level for the satisfaction of all, participants and spectators. The concerts organised in this way make it possible to invest in the local and regional cultural sphere at a time when there are fewer cultural events.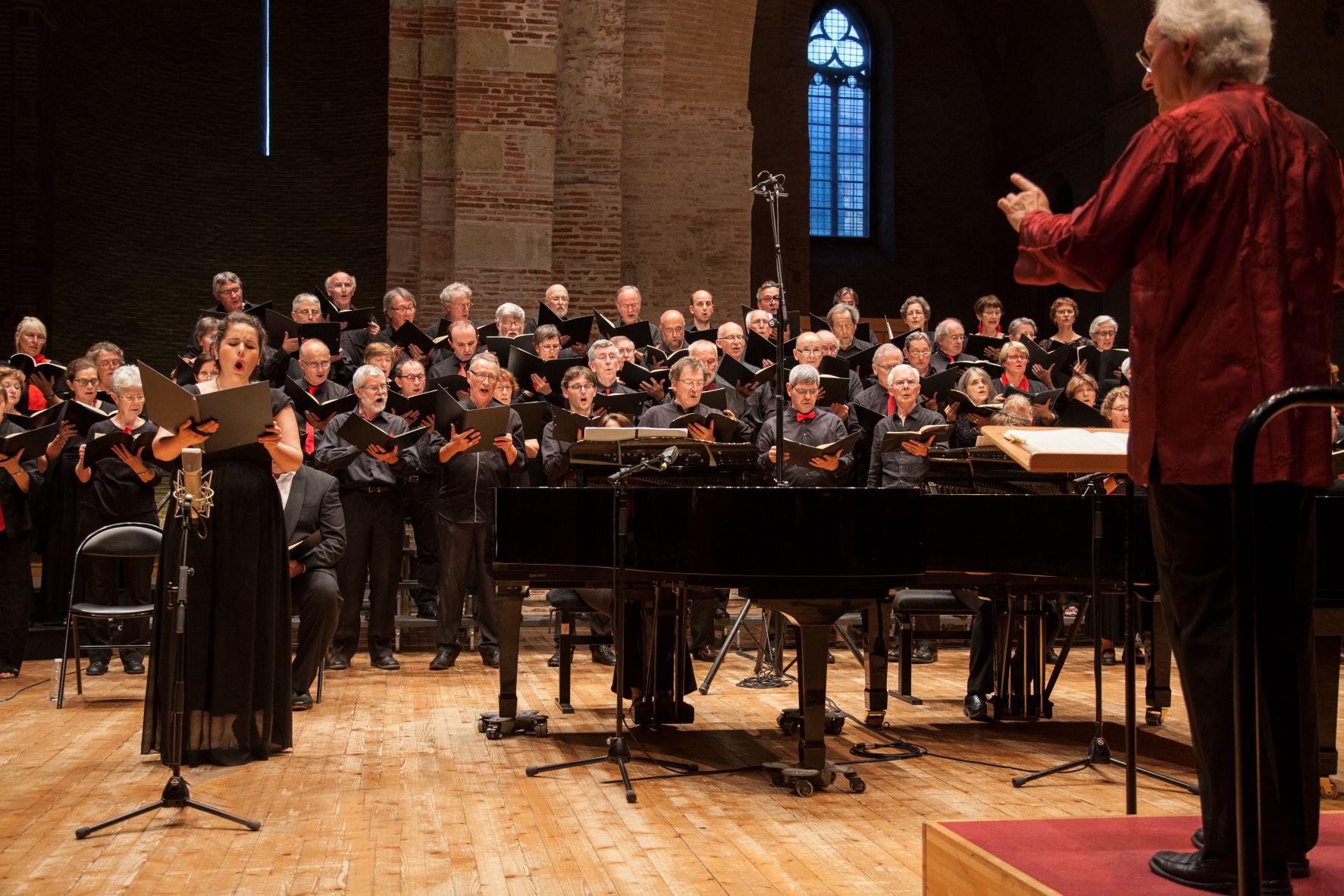 Eurochorus in concert at the Saint-Pierre des cuisines auditorium in Toulouse (July 2016)
History
Eleven Eurochorus "International Choral Art Meetings" have taken place in Toulouse in July:
2005: Canto General, oratorio by Mikis Theodorakis on poems by Pablo Neruda
2008: Ecce Cor Meum, oratorio by Paul McCartney
2009: Vespers by Sergei Rachmaninov
2010: Elias, oratorio by Felix Mendelssohn
2011: King Arthur and Sacred Music by Henry Purcell
2012 : Gloria and Mass of the Children by John Rutter
2013 : Liturgy of St John Chrysostom by Pyotr Ilyich Tchaikovsky / Symphony of Psalms by Igor Stravinsky
2014: Stabat Mater by Anton Dvorak
2015 : Messa di Gloria by Giacomo Puccini / Gloria by Francis Poulenc
2016: A German Requiem by Johannes Brahms
2017 : Vespers to the Virgin (1610) by Claudio Monteverdi
New formula:
2022: Music for Peace in Aachen